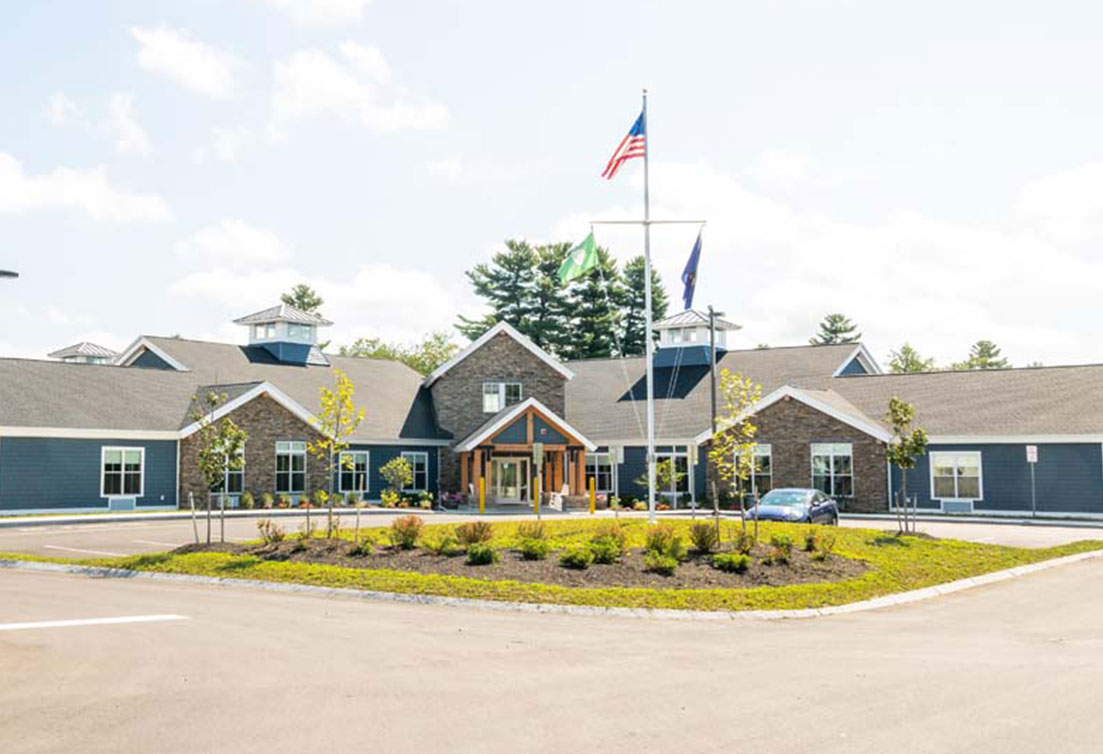 The team at Spring Village at Dover is thrilled to announce that on Friday, March 13, 2020, we received our license and can now welcome residents into our community. We have planned, prepared, and practiced for this moment for nearly a year, and we are ready.
Spring Village at Dover is an assisted living community specializing in memory care. This means that our residents are not required to have a diagnosis of dementia, however, our staff are highly trained to assist our residents that do have a dementia diagnosis. The layout of our beautiful new building is designed to be safe for someone with cognitive challenges, and to also encourage them to continue to live as independently as possible.
For example, the focal point in both our Garrison Hill and Tuttle Farm neighborhoods are the indoor courtyards. These are lovely spaces for residents to enjoy being outside independently, yet staff can see them from other areas of the building so that they can ensure their safety. Each of the other common areas are located around the indoor courtyard, making it easy for our residents to navigate to their destination. As a resident walks or wheels through the hallways around the indoor courtyard, they will discover the dining room, the lounge, the activity area, the country kitchen, and the entrance to Town Square. If they continue through the lounge, they will find the bright sunroom which leads to yet another outdoor area, a patio with tables, chairs, benches, and raised gardens. And, when a resident enters Town Square they will find the Eliot Rose Café, a beauty salon, staff offices, and our Concierge. The Concierge is available from 8 a.m. to 8 p.m. every day of the week, so residents have a person they can easily find if they need anything.
Yes, it is a beautiful, well-designed building, but that is not all that Spring Village at Dover has to offer. We have an active Activities Calendar, providing seven scheduled activities daily. Residents are offered opportunities to exercise, create a craft, do some baking, take a walk, be challenged by a word game or trivia, or enjoy each other's company during our daily socials and weekly music programs. However, we understand that not every resident is interested in the activity schedule, so we have created the Present Moment Program. This is a total engagement program in which our staff have been trained in person-centered care, the Montessori Method, and Teepa Snows' 4-Ps. Our staff understand that engagement consists of every encounter a resident has with another person or with their environment, and they use this knowledge to provide opportunities for every resident to feel a x sense of purpose and meaning.
In addition to our beautiful building and our thoughtful programming, Spring Village at Dover also takes exceptional care of our residents' clinical needs. We have partnered with professionals that will come to our community to care for our residents, minimizing the number of times they will have the inconvenience of traveling to appointments. Residents can choose to use our Medical Director and team who will make at least weekly visits as well as providing 24-hour coverage and emergency visits; podiatrist; audiologist; dental hygienist; dermatologist; geropsych nurse practitioner; along with physical, occupational, and speech therapy services. We develop Personal Care Plans that center around the whole person. This means we are respectful of all residents and their life choices. The Personal Care Plan addresses the resident's emotional, physical, and spiritual wellness, guiding our staff to provide 24-hour support to each individual in a way that conforms to their needs, and adjusting care plans as residents' needs change. In most circumstances, residents are able to stay in their familiar suite with their familiar care partners right through end of life.
Spring Village at Dover is an integrated community. We do not separate our residents depending on their level of care. Rather, we create community in all of its variety and assist residents to be a part of that community with the dignity they deserve. It is important to us that family members always feel welcome and a part of the community too. Our monthly support group is available to help them sort through the struggles and emotions that arise as relationships evolve with the decline of their loved one. We also invite family members to enjoy time with their loved one by joining in meals and activities when they are able.
The Spring Village at Dover team has worked hard in the development of our community. It has been challenging, at times frustrating, but always full of fun and laughter. It has been a privilege to create a community that will serve all those who chose to let us take the journey with them. Welcome to Spring Village at Dover!