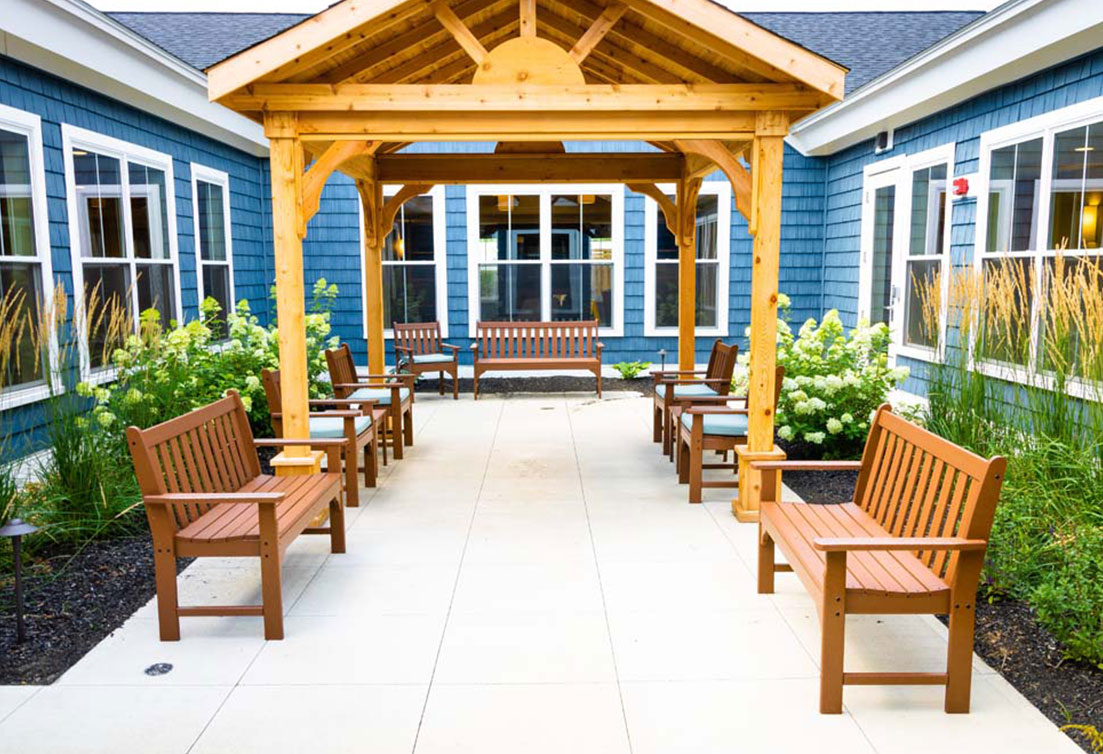 Three months ago, assisted living communities were instructed to lock their doors to visitors. For a gentleman who ate lunch with his wife every day, a son who stopped by to visit Mom on Sundays, or a daughter who visited Dad on Tuesdays and Thursdays on her way home from work, three months is a long time. This has been particularly hard for families who have needed to move a loved one to an assisted living community without the opportunity to develop a relationship with those who are caring for them. It takes a lot of faith and trust to drop Mom off, say goodbye, and hope that you will get to see her through a window or on a virtual device.
While it is important to have measures in place to protect the most vulnerable population from the coronavirus, evidence is showing that there is a cost to this protection. Residents may develop signs of depression and anxiety from the isolation, change in routine, and lack of socialization. Physically, because residents are not moving as much, their muscles become weak, leading to balance problems. And, for residents living with dementia, the frustration of routine change, lack of stimulation, and anxiety that may be felt because they are surrounded by people in masks, may cause a much more rapid decline in their skill level.
Families have spoken up about these issues and officials have heard their concerns. Guidelines are currently being developed on how best to safely reopen assisted living communities to visitors. In New Hampshire, these guidelines were announced on Tuesday, June 16, 2020. In the press release announcing the guidelines, Health Commissioner Lori Shibinette explained that:
"Each facility will develop its own plan, and some might be able to begin allowing visitors as soon as this weekend. …flexibility is needed to allow the facilities to identify outdoor areas that can be used and determine how many visits can be conducted at once… I would say to the family members is just to be patient. We want to make sure that the visit program that we put in place at every facility is safe, both for you and for the residents."
When considering the statistics stated in the press release, it is easy to see why the restrictions are so tight:
"The coronavirus has hit long-term care facilities in New Hampshire hard, with more than 34% of infections and 82% of deaths from COVID-19 linked to the facilities."
Here are some of the guidelines Commissioner Shibinette put forward to ensure a successful visitation program:
Residents and visitors must remain at least 6 feet apart and wear face coverings.
No contact will be allowed during the visits, and residents can have no more than two visitors at a time.
Visitors must be at least 12 years old. Shibinette said the age restriction is necessary to help ensure compliance with the rules to help prevent the spread of COVID-19.
Staff members of the facility will be in the visiting area to make sure social distancing and mask-wearing rules are followed; however, they will keep their distance to allow visitors and residents to have privacy.
Any long-term care facility that's currently having a COVID-19 outbreak will not be allowed to have visitors.
Spring Village at Dover has taken these strict guidelines and created our own specific plan for family visitation. Window visits have been discontinued and will be replaced by the following policy:
Outdoor Visitation
These rules are for those Residents who are COVID-19 free with no symptoms of COVID, those Residents who are on isolation precautions may not participate until off isolation precautions.
If at any time the community has an active COVID-19 outbreak, visitation will be halted.
These guidelines may be amended at any time at the discretion of the community or per DHHS and governmental guidelines.
For family visits:
Visit must be scheduled at least one day in advance through the concierge (603-842-4908) and are dependent on permissible weather conditions, staffing availability and the health and well-being of the Resident. The concierge will ask you the following questions:
We carefully considered how best to apply all the official recommendations in our physical space. We only have one family visiting at a time because the space we have does not allow for physical distancing of more than one family. We only set-up three time slots per day for visits because we need time to sanitize between each visit. We used plexiglass to save our residents the frustration of being reminded not to touch their family member.
It seems like a lot, right? It is. We work very hard to make sure that our residents are protected. This means considering what the state tells us are best practices and making it work for our specific community. We think of each possible scenario so we are prepared. It has worked so far; our staff have all tested negative for the second time in a row and our residents are safe. We will continue to work hard to keep it that way.
Fever over 100?
Respiratory symptoms (runny nose, nasal congestion, sore throat, cough, shortness of breath)?
Whole body symptoms (muscle aches, chills and severe fatigue)?
Gastrointestinal symptoms (nausea, vomiting, diarrhea)?
Change in sense of taste or smell?
Have you been in close contact with someone who is suspected or confirmed to have COVID-19 in the last 14 days?
Have you traveled in the past 14 days:

Internationally?
By cruise ship?
Domestically outside of NH, VT or ME on public transportation?

Any affirmative answers to these questions will not be permitted to visit.

Visits will be at the exterior patio, which will be assembled to allow for safe visitation to include hand sanitizer for both visitors and Residents and a thermometer for visitor use. Visitors and Residents will be separated by plexiglass barrier.
Maximum of two family members per visit, to be re-screened by staff on day of visit to include questionnaire and temperature check. Call to community (842-4908) to alert desk of your arrival. Screening questions will be reviewed again and visitors will be instructed where to go.
If Resident is on isolation precautions or has suspected or confirmed COVID-19, visit will not occur.
If Resident or visitor have symptoms of COVID-19, or if visitor reports risk factors for COVID-19 exposure, visitation will not occur.
No children under the age of 12 may visit.
There will be no admission into the building for any reason, there are no bathroom facilities available.
All family members must wear a cloth face covering that covers their nose and mouth for the entire visit. Visitors must bring their own face covering.
Resident must wear a surgical mask. Temperature check will be performed on Resident immediately prior to the visit.
Use hand sanitizer before and after visit, do not touch eyes, nose, mouth, or face, or adjust mask without first sanitizing hands.
Six-foot social distancing must always be maintained between visitors, Residents, and staff.
Do not hand anything to Resident. Continue to drop off any items at the front door to be sanitized before being brought into the community.
Only one visit per time slot
Time slots will be at 10AM, 1PM, 4PM, dependent on weather and staff availability.
Visits will be scheduled for a up to thirty minutes maximum. Visits may be limited to allow for all families the chance to see their Resident weekly.
Staff representative will be present for entire visit at a distance to allow for privacy and ensure that social distance is always maintained, that visitors wear their face covering appropriately and practice hand hygiene.
Staff will disinfect all surfaces after each visit
After visitation – monitor for symptoms of COVID-19 for 14 days and report symptoms to facility immediately
If any of these guidelines are not followed, visits will be suspended between that visitor and Resident. This will be at the community discretion.